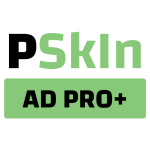 Active Probiotics Barrier
PSkIN AD PRO+
Balancing Natural Skin Bacteria, Repairing Skin Immune System
Relieve Dry, Itchy and Allergic Skin Problem
PSkIn AD PRO+ SERUM
Skin Microbiome Formula
Active Patented Probiotics
Balancing Skin Natural Microbiota, Rebuilding Skin Protective Barrier.

Repairing Skin Immune System

Suitable for Allergy Skin including Dry and Itchy problem

Relieve the uncomfort and itchy from allergy

Selected formula, All-round skin hydration

Suitable for face and body
Active Probiotics Formula
Active Probiotics Barrier
Balancing natural skin bacteria, Rebuild Skin Immune System, Relieve Dry, Itchy and allergic skin problem
Lactiplantibacillus Plantarum LB244R®
Prevent skin problem like itchy, redness and allergy.
Regulating the balance of skin microbiota, enhancing skin barrier function, and promoting skin repair, thereby reducing skin inflammation and allergic reactions, relieving skin allergy symptoms, and improving skin health.
Ultimate Hydration: Building the Strongest Microbiome Barrier
Expertly Chosen formula, specifically targets Allergic Skin
Lactiplantibacillus Plantarum LB244R®:
Balancing Skin Natural Microbiota, reduce dryness, irritation, redness, maintain skin health
Shea butter :
Deep nourishing, soften and smoothen the skin, maintain bright and healthy skin colour
Jojoba oil :
Nourishing the skin and retain moisture, suitable for most of the skin type

Hypoallergenic formula made with natural, vegan ingredients
No Fragrance
No Preservatives
No Antibiotics
Store in a refrigerator (2-8 °C) before opening for 24 months. After opening, it can be stored at room temperature for up to 3 months.
Suggested usage﹕
Apply 2-3 times a day, 3g per time