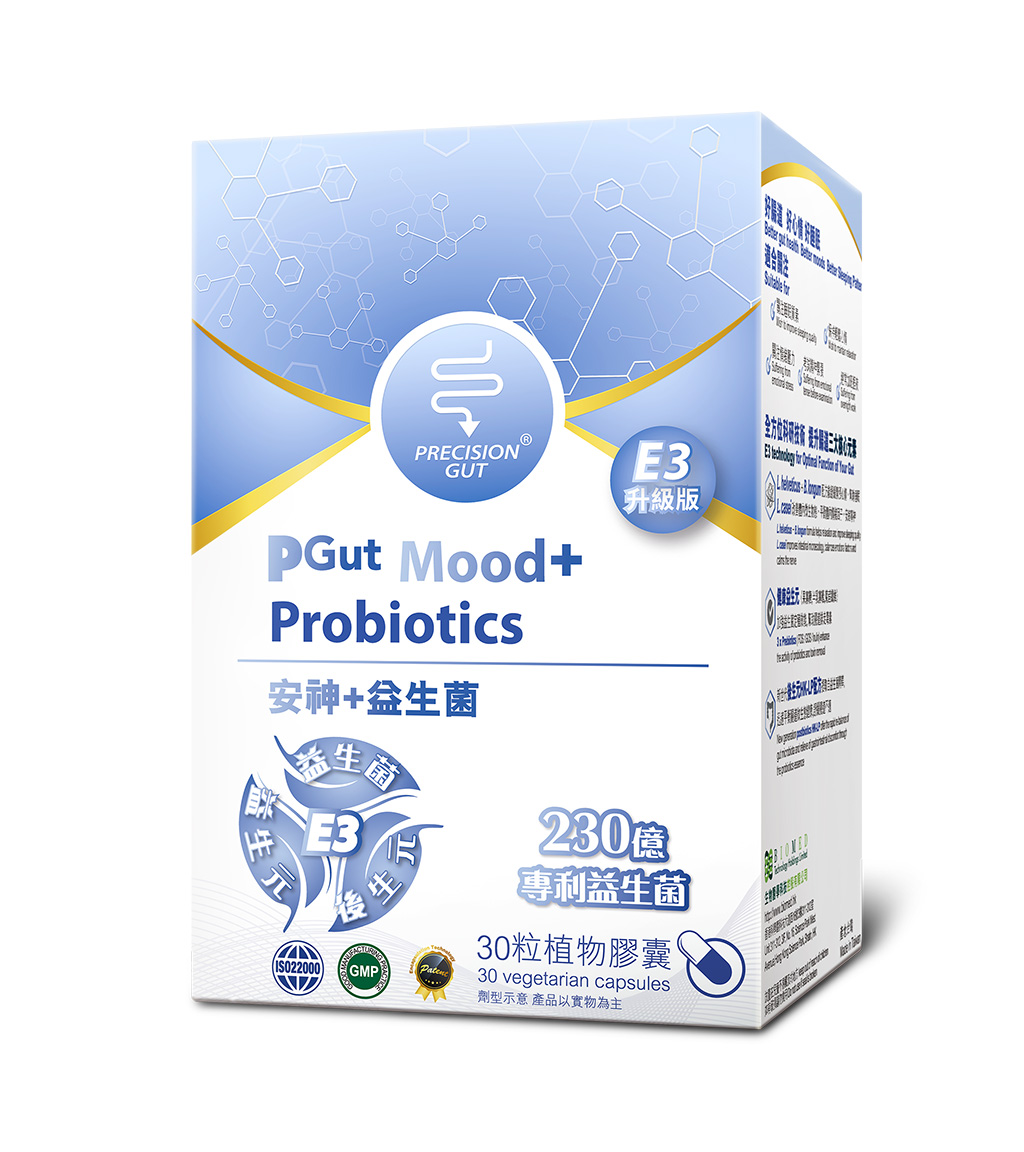 Comprehensive E3 elements (Probiotics, prebiotics, postbiotics)

Postbiotic HK-LP

L. helveticus + B. longum formula helps relaxation and improve sleeping quality

L. casei improves intestinal microecology, balances emotional factors and calms the nerve

6 types of highly effective gastro-resistant probiotics
Examined through heavy metal/plasticizer food grade safety test

Oligosaccharide prebiotics FOS/GOS strengthen the activity of probiotics

Inulin, extracted from chicory, promotes bowel movement and detoxification

Each capsule contains 23 billion of active probiotics

No addition of flavouring, artificial color, preservatives and gluten

Produced according to GMP and ISO22000 standards
PGut Mood+ E3 Probiotics
Upgraded Functions

23 billions active probiotics
PGut Mood+ E3 Probiotics
Better gut health Better moods Better Sleeping Pattern
PGut New Generation
Probiotics
PGut E3 Upgraded Series
3 in 1 E3 elements
Effective postbiotic HK-LP cutting edge technology(Metabolites of probiotics)
PGut E3 chooses the most clinically recognised postbiotics HK-LP(HK L.plantarum).Scientists discovered that heat killed probiotics has similar funtions when compared with viabe bacteria in addition to enhancing probiotics funtions.
Triple Prebiotics (nutrients of probiotics)
FOS + GOS + Inulin foster probiotics growth
Prebiotics can act as a energy source for probiotics. They enhance the probiotics function, foster intestinal peristalsis and detoxification.
Probiotics
According to WHO, active microorganisms are considered as probiotics once they are absorbed to a certain level. Acid tolerance level of PGut probiotics is up to 95%, which bring health benefits to the host.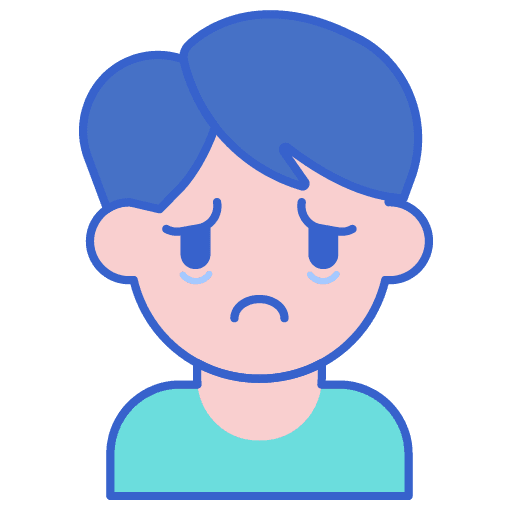 Improve sleeping quality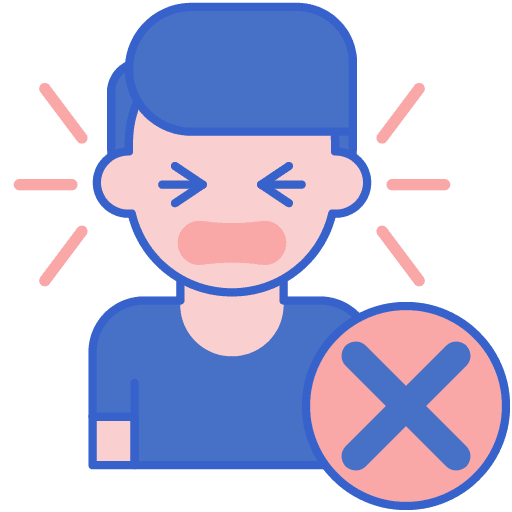 Comforting stress from exam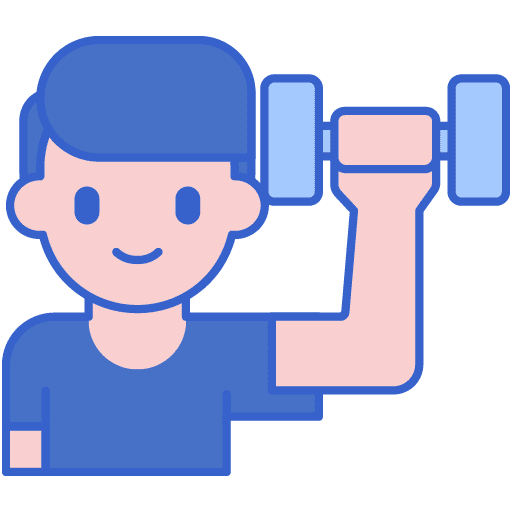 Maintaining relaxation and mind calmness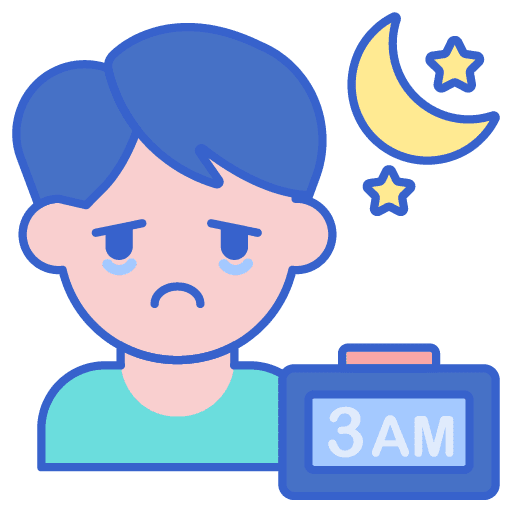 Easing night shift tiredness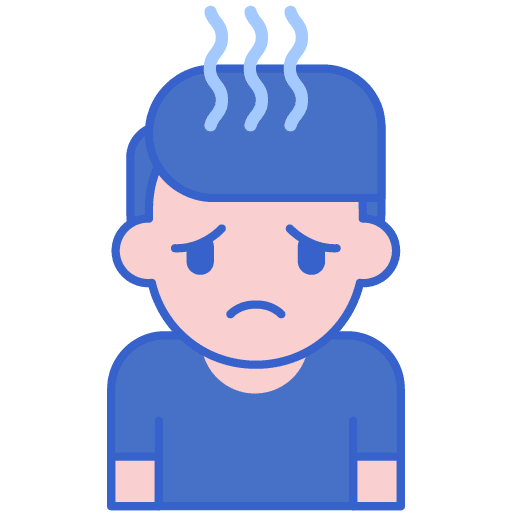 Relieving emotional stress
PGut Mood+ E3 Probiotics can supplement corresponding probiotics and adjust the needs of intestine, improving sleeping quality and  mental health.
The mental stress and emotional problems of Hong Kong people have become an increasingly serious problem in recent years. A local university research pointed out that 22% of local adults in Hong Kong suffer from stress disorder, which means 1 out of 5 local adults is mentally distressed. Studies shows that Bifidobacterium longum can reduce personal negative emotions by regulating the secretin in the brain that responds to stress. Lactobacillus acidophilus helps maintain the stability of serotonin, and serotonin is an important factor that helps stabilize mood.
PGut Mood+ E3 probiotics contains patent formula Lactobacillus Helveticus which helps reduce nervous emotions, promotes relaxation and improves sleeping quality.
To meet the needs of vegetarians, our product uses plant capsule to store probiotics, such that our product is suitable for vegetarians and people with general eating habits.

PGut Mood+ E3 probiotics has passed gastric acid & bile salt tolerance test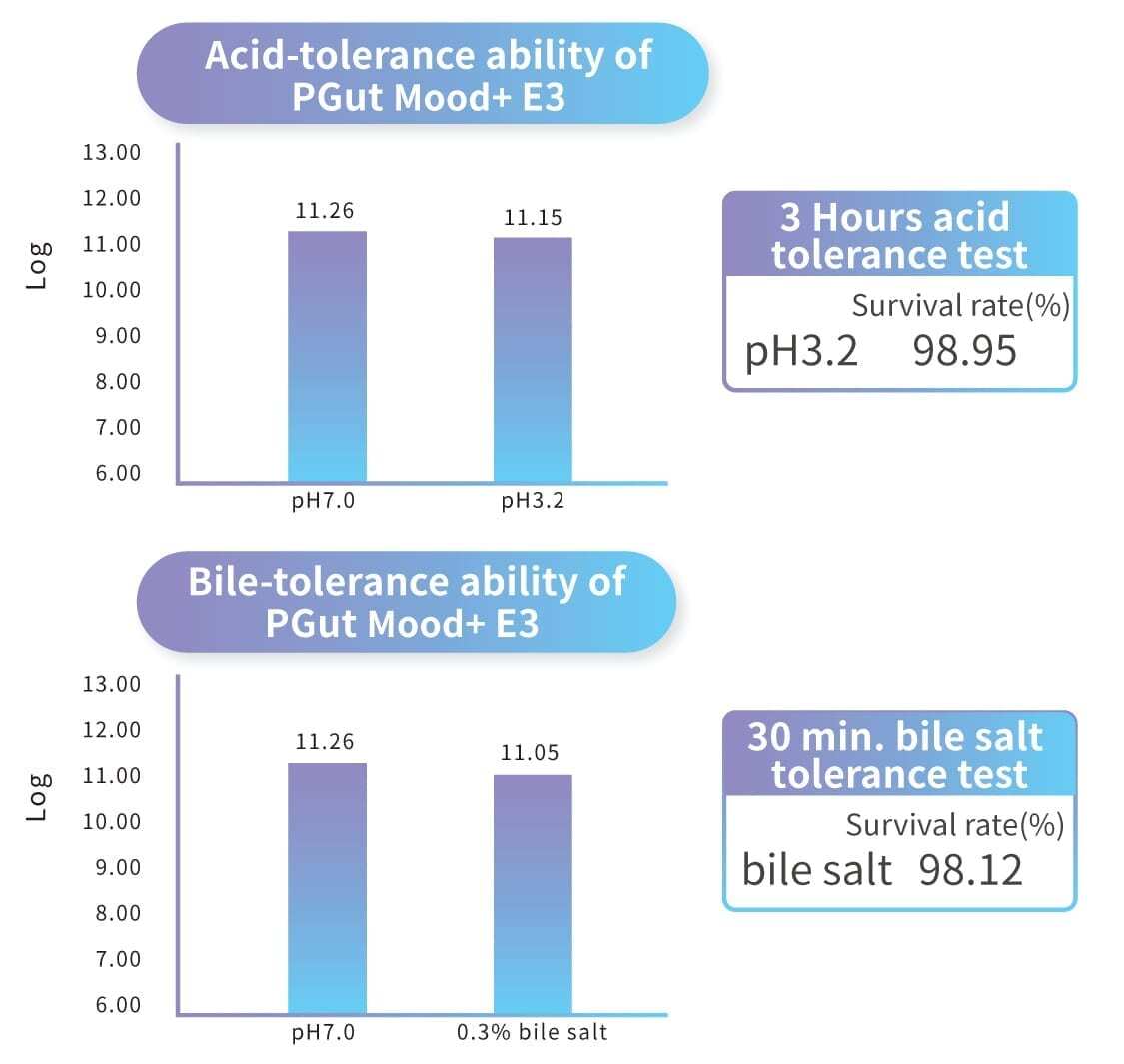 ✔︎ 30 capsules (each capsule contains 23 billions active probiotics) 
✔︎ 6 types of active probiotics + 3 types of prebiotics + postbiotics
✦ Instruction of use: Consume with drinking water.
✦ Suggested dose: 1 capsule per day before or after meal. 
Origin: Taiwan
Store in the fridge or in a cool and dry area.
Please inform your doctor if you are pregnant, taking medicine or any treatment.
Reference:
Aguilar-Toala JE, Garcia-Varela R, Garcia HS, Mata-Haro V, Gonzalez-Cordova AF, Vallejo-Cordoba B, Hernandez-Mendoza A. Postbiotics: an evolving term within the functional foods field. Trends in Food Science & Technology, 2018, 75, 105-114.
Kerry, R. G., Patra, J. K., Gouda, S., Park, Y., Shin, H., & Das, G. (2018). Benefaction of probiotics for human health: A review. Journal of Food and Drug Analysis, 26(3), 927-939. doi:10.1016/j.jfda.2018.01.002
Messaoudi, M., Lalonde, R., Violle, N., Javelot, H., Desor, D., Nejdi, A., . . . Cazaubiel, J. (2010). Assessment of psychotropic-like properties of a probiotic formulation (Lactobacillus helveticusR0052 andBifidobacterium longumR0175) in rats and human subjects. British Journal of Nutrition, 105(5), 755-764. doi:10.1017/s0007114510004319
Shiah, I., & Yatham, L. N. (2000). Serotonin in mania and in the mechanism of action of mood stabilizers: A review of clinical studies. Bipolar Disorders, 2(2), 77-92. doi:10.1034/j.1399-5618.2000.020201.x
Vlădăreanu, S., & Cristian, M. (2018). Postbiotics – introduction, classification and health benefits. Perinatologia, 2(2), 90. doi:10.26416/peri.2.2.2018.1816
Wang, H., Braun, C., Murphy, E. F., & Enck, P. (2019). Bifidobacterium longum 1714™ Strain Modulates Brain Activity of Healthy Volunteers During Social Stress. The American Journal of Gastroenterology, 114(7), 1152-1162. doi:10.14309/ajg.0000000000000203
Wang, Y., Cao, Y., Feng, L., Wang, B., Jiang, K., Li, S., . . . Zhao, J. (2018). Lactobacillus acidophilus and Bifidobacterium longum supernatants upregulate the serotonin transporter expression in intestinal epithelial cells. Saudi Journal of Gastroenterology, 24(1), 59. doi:10.4103/sjg.sjg_333_17
Zolkiewicz J, Marzec A, Ruszczynski M, Feleszko W. Postbiotics – a step beyond pre- and probiotics. Nutrients, 2020, 12, 2189.
Reference Test Laboratory: Biotech Research Institute, No.402, Sec. 2, Jinling Rd., Pingzhen Dist., Taoyuan City 324, Taiwan (R.O.C.)
Disclaimer: For details, please refer to the label on the product. The picture above is for reference only. The real object should be considered as final. This product is not registered under the Pharmacy and Poisons Ordinance or the Chinese Medicine Ordinance. Any claim made for it has not been subject to evaluation for such registration. This product is not intended to diagnose, treat or prevent any disease.