PGut SupremeSlim E3 Probiotics
The companion for your weight and metabolic management plan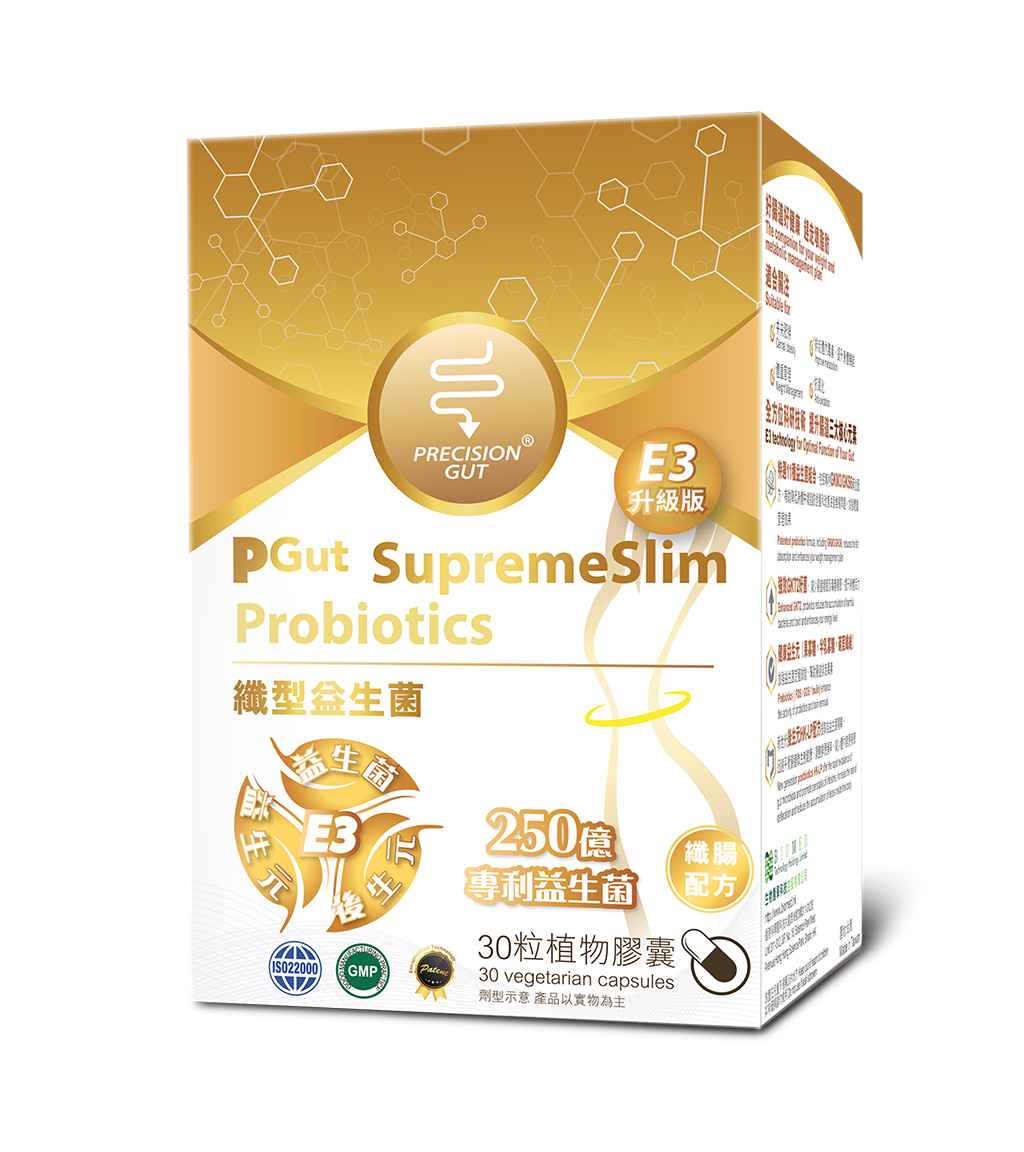 PGut SupremeSlim E3 Probiotics
Comprehensive E3 elements (Probiotics, Prebiotics, Postbiotics)
Patented probiotics GKM3/GKS6
11 types of gastro-resistant probiotics
Examined through heavy metal/plasticizer food grade safety test
Oligosaccharide prebiotics FOS/GOS strengthen the activity of probiotics
Natural Inulin promotes bowel movement and detoxification
Postbiotic HK-LP
Each capsule contains 25 billion of active probiotics
No addition of flavouring, artificial color, preservatives and gluten
Produced according to GMP and ISO22000 standards
PGut SupremeSlim E3 Probiotics
Upgraded Functions

25 billions active probiotics

Bile salt tolerance technology

Control body weigth and enhance calories consumption

Regulates stack up of saturated fats

Improves metabolism and release toxins
PGut E3 Upgraded Series
3 in 1 E3 elements
Effective postbiotic HK-LP cutting edge technology(Metabolites of probiotics)
PGut E3 chooses the most clinically recognised postbiotics HK-LP(HK L.plantarum).Scientists discovered that heat killed probiotics has similar funtions when compared with viabe bacteria in addition to enhancing probiotics funtions.
Triple Prebiotics (nutrients of probiotics)
FOS + GOS + Inulin foster probiotics growth
Prebiotics can act as a energy source for probiotics. They enhance the probiotics function, foster intestinal peristalsis and detoxification.
Probiotics
According to WHO, active microorganisms are considered as probiotics once they are absorbed to a certain level. Acid tolerance level of PGut probiotics is up to 95%, which bring health benefits to the host.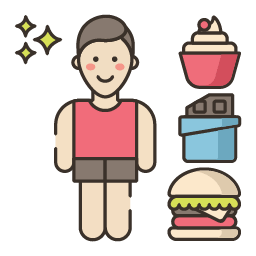 Central obesity
Anti-oxidation
Weight Management
Improve metabolism
PGut Supremeslim E3 Probiotics is a tailor-made probiotic which specifically aim for weight management and losing weight.
PGut Supremeslim E3 Probiotics contains Lactobacillus plantarum GKM3, which can effectively reduce the problem of increasing weight, as well as reduce the proportion of fat in body and improve the problems of accumulation of liver fat. Besides, Lactobacillus paracasei GKS6 can effectively reduce the accumulation of subcutaneous/visceral fat and calories absorption. Thus, it is suitable for people who concern about central obesity.
PGut Supremeslim E3 Probiotics consists of highly effective Streptococcus thermophilus GKT2 probiotics. There have already been plenty research papers suggesting that S. thermophilis can reduce the relative abundance of the bad bacteria in the intestine. Therefore, it can reduce the toxins absorbed by the body and increase the metabolism rate.
In order to meet the needs of vegetarians, we also use plant capsule to store the probiotics. Therefore, this product is suitable for vegetarians and individuals with normal eating habits.

PGut Supremeslim E3 Probiotics has passed gastric acid & bile salt tolerance test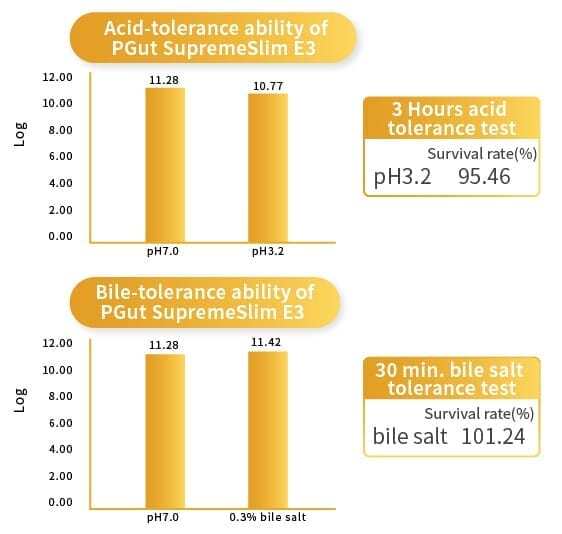 ✔︎ 30 capsules (25 billions active probiotics/ capsule)
✔︎ 11 types of active probiotics + 3 types of prebiotics + postbiotics
✦ Instruction of use: Consume with drinking water.
✦ Suggested dose: 1 capsule per day before/ after meal 
Origin: Taiwan
Store in the fridge or in a cool and dry area. Avoid sunlight. 
Please inform your doctor if you are pregnant, taking medicine or any treatment.
PGut SupremeSlim Probiotics E3 Brochure
Reference Test Laboratory: Biotech Research Institute, No.402, Sec. 2, Jinling Rd., Pingzhen Dist., Taoyuan City 324, Taiwan (R.O.C.)
Disclaimer: For details, please refer to the label on the product. The picture above is for reference only. The real object should be considered as final. This product is not registered under the Pharmacy and Poisons Ordinance or the Chinese Medicine Ordinance. Any claim made for it has not been subject to evaluation for such registration. This product is not intended to diagnose, treat or prevent any disease.